Rieslingviner (främst från från Pfalz) som provat den senaste året eller så i mitt försök att djupdyka ner i tysk riesling.
Dr. von Bassermann-Jordan (Pfalz)
(Deidesheimer) Kalkofen GG 2012
2017-01-08. 94/100
Colour: Deep yellow colour.
Nose: Expressive with peach, apples and minerality.
Palate: Highly aromatic riesling with deep concentrated fruit: peach, passionfruit, apple and sweet lemon. Clean rounded acid – ready to drink right now. Creamy and a bit fat. Quite much residual suger balances up everything. No disturbing botrytis. Long, long finish. But why 13.5 % alcohol?
Königsbacher Ölberg GG "Kapelle" Riesling trocken 2012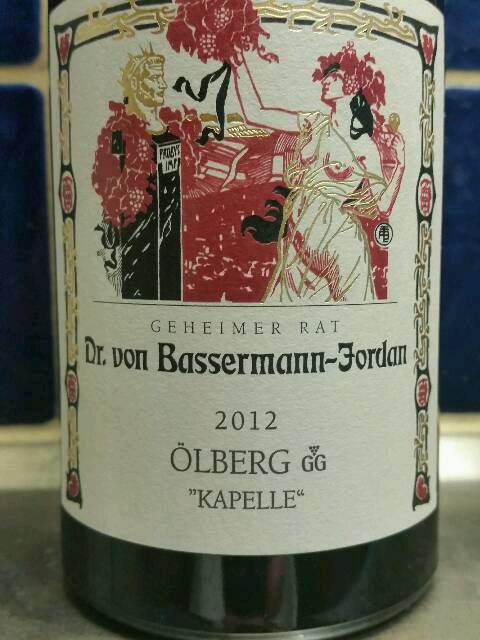 2016-10-23. 92/100
Colour: Deep yellow
Nose: Tropical fruit, peach and apples. Flowers and vanilla. Massive.
Palate: Rich, smooth and concentrated. Dry with hints of sweet fruit and botrytis. Lots of fruit: peach/apples more than lemon/lime. Held back acid in great balance. I think the wine is ready to drink now.  2012 is the last vintage of Ölberg Kapelle riesling from B-J. Great wine. Fav. <3
Auf Der Mauer Riesling Trocken 2013
2016-10-08. 91/100
Tropical fruit, flowers and petroleum nose. Concentrated elegant but powerful palate with lots of R character, greenish lemon peel and lime fruit and a grape finish. Great.
2016-10-20. 86/100
Frisk och god. Inte överdrivet koncentrerad eller komplex smak. Bra balans och blommighet.
På intet sätt bättre (eller för den delen sämre) än andra Gutswein som jag provat från Pfalz. Däremot högre pris: SEK 179 på monopolet (€ 18.5). Inte helt prisvärt tycker jag.
Deidesheimer Paradiesgarten Riesling Kabinett 2015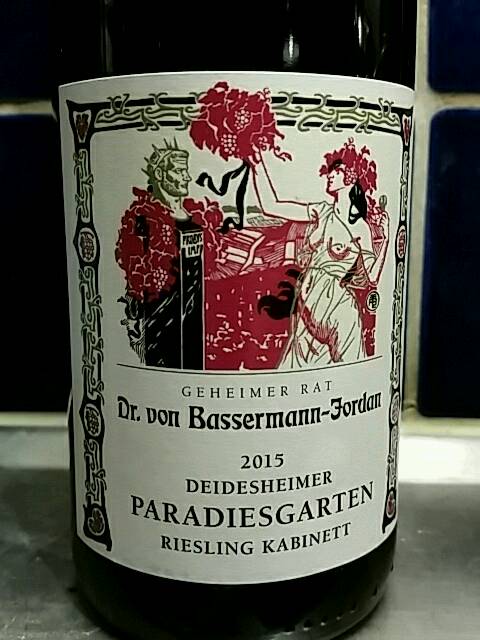 2016-12-10. 87/100
Nose: Strange sligtly reductive; yeast, flowers and melon. Not completely fresh.
Palate: Sweet fruit and decent acid and complexity. Long finish with minerality and some petroleum. Still very young.
Dr. Bürklin-Wolf  (Pfalz)
Wachenheimer Riesling 2013
2016-04-18. 88/100
Friskt och fruktig med citrus och en aning petroleum. Torrt och riktigt bra till mat!
Wachenheimer Riesling 2014
2016-12-22. 87/100
High on mineral and acid. Decant and air to get the fruit.
Wachenheimer Riesling 2015
2017-02-03. 86/100
Bone dry, fresh and high mineral riesling. Not so generous and a bit closed fruit at the moment. Decant. No fav right now, but really good food wine.
Tasted side by side with Wittmann's Vom Kalkstein 2015 – which is in the same acid and minerality game (and price level), but WVK is more concentrated and generous with loads of lemon/lime fruit.
Reichrat von Buhl (Pfalz)
(Forster) Pechstein GG 2014
2016-07-05. 90/100
Läs mer här.
2016-09-14. 87/100
High acid. Good concentration. Nice lemon/lime fruit. Still young
2016-04-22. 86/100.
Really good for it's price.
2017-02-12. 85/100.
Bone dry. Young. Closed. Fresch lime/lemon green apple fruit. Full of minerality. Food wine. Good value.
Keller (Rheinhessen)
Keller Riesling Trocken 2015
2017-01-21. 89/100
A really good fresch riesling. Shy nose but the palate burst of apples, pear and lemon fruit, minerality and the acid is clean and precise. Some residual sugar does wonder. Almost 4 stars.
Keller Riesling Trocken 2014
2016-09-30. 90/100
Väldigt bra, koncentrerat och friskt.
Philipp Kuhn (Pfalz)
(Kallstadter) Saumagen GG 2014
2017-03-11. 90/100
Light yellow colour. No bouquet at all at start and really closed aromatics. Then it opens up to a great quite full and concentrated and powerful R., bursting of yellow fruit and peach. Low and very well balanced acid. Flinty minerality. Some grapefruit on the finish. Easy to drink but keep it for a while before opening.
(Laumersheimer) Kirschgarten GG 2014
2016-12-10. 90/100
Nose: Apples, minerals, peach and melon
Palate: Powerful, full and fruity. Lots of apples and some sweet lemon and melon. Quite low acid. Still a bit closed right now and 31 € is maybe too much for this wine at this moment.
Grosskarlbacher Burgweg Riesling 2013
2016-10-12. 90/100
New style Pfalz riesling (for me). Low acid, quite full and fat. More mature apples than lemon/lime and more power than elegance. I like!
Grosskarlbacher Burgweg Riesling Trocken 2014
2017-01-27. 92/100
Stor doft med massor av persika, citrus och honung. Aningens petroleum. Smaken är alldeles underbar och fylld av persika, gula äpplen, söt citrus och honung. Lite fet känsla med massor med kraft och fyllighet. Rundad syra. Mineraler och en aning grapebitterhet mot slutet. Ganska mycket restsötma. Lång eftersmak. Gillar mycket. Fav. <3
Laumersheimer Riesling Alte Reben Trocken 2012
2016-11-05. 91/100
Great, dry, full, powerful, mature but fresch riesling with sweet fruit – apples, mandarin and lemon. Food wine. Fav. <3
Riesling Tradition Trocken 2015
2017-02-21. 89/100
Great value! Decant and air overnight. It transformes from a 3 star standard wine to 3,5 star phenomenon.
Rings (Pfalz)
(Ungsteiner) Weilberg GG Riesling 2014
2016-11-19. 89/100
Colour: Light yellow
Nose: Excellent deep, fruity with great flint character.
Palate: Full and powerful, a bit restrained fruit – apples snd peaches – and acid. Classic minerality. Weak finish – taste fade away quite quickly.
Ungsteiner Nussriegel Riesling 2015
2017-01-20. 90/100
Great wine! Clean, powerful, full and fruity with good minarality and awesome acid. Young but totally drinkable. Fav.
2016-11-10. 85/100
Ganska fyllig och torr riesling. Till en början mycket källar/jäst-karaktär i doft och smak. Det luftade ut på några minuter. Sedan blommade vinet ut och det är relativt tillgängligt nu, trots att det fortfarande är ungt. Avrundade syror och rund frukt med massor av mogna äpplen och tendens till brödighet. Ganska stram smak med en fin mineralitet som balanserar upp frukten. Ambitiöst.
von Winning (Pfalz)
(Dedesheimer) Langenmorgen Riesling GG 2013
2017-01-29. 91+/100
Colour: Light yellow/lime.
Nose: Really deep fresch with lemon/lime, flowers, spices and honey.
Palate: Aromatic quite light and fresch. Ripe lemon/lime fruit, lemon curd and peach. Some oak but not too much. Elegant balanced medium bodied wine. Young acid. Long mineral finish.
Really good now but I'll wait a year or so to open next bottle.
(Deidesheimer) Grainhübel Riesling GG 2014
2016-09-23. 86/100
Still closed and a bit oxidized. Fantastic nose bursting with fruit, but quite restrained palate. No obvious fav for me.
(Deidesheimer) Grainhübel Riesling 2011
2017-02-19. 90/100
Surprised! Last time I drank Grainhübel '11 it was sharp and quite closed. No fav and I only got tree bottles. Now it is more generous and fruity on the palate with apples, peach and herbs. Nice rounded acid. Oak is present but does not dominate. Wich I got more…
(Deidesheimer) Paradiesgarten Riesling 2014
2017-03-18. 88/100
Ett av von Winnings mest tillgängliga och inställsamma och lättdruckna torra rieslings med högre ambition. Full av söt gul frukt med fina citrussyror och snäll mineralitet. Lättare och mindre koncentrerad än Reiterpfad 14 men mer tillgänglig än Grainhübel 14. Riktigt bra! Detta är lätt en 90-poängare med lite mer tid.
(Ruppertsberger) Reiterpfad Riesling 2011
2017-03-09. 87/100

Yellow colour. Mature. Petroleum. Yellow apples. Rounded acid. Not as good as the Reiterpfad '12.
(Ruppertsberger) Reiterpfad Riesling 2012
2016-08-20. 90/100
Really nice wine! Instant fav with great bouqet and rich concentrated fruit and great character.
(Ruppertsberger) Reiterpfad Riesling 2014
2016-09-07. 89/100
Round and full of fruit – apples more than lime/lemon. Acid in balance. Dry palate with a distinct almost sweet finish.
(Ruppertsberger) Reiterpfad Riesling 2015
2017-02-11. 89/100
Light yellow colour. Apples, peach, herbs and lemon on the nose. Quite concentrated taste with apple and peach fruit and lemon/lime freschness. There is some oak in the background, but not much and it give the wine roundness. Like it. 2015 is somewhat better than 2014, but it lacks the richness of the 2012 right now.
2017-03-01. 88/100
Deep yellow colour. Classic petroleum honey nose – like a really mature spätlese. Completely dry taste, fruit in the background, acid rounded off. Mature but still fresch.
2016-12-21. 87/100
Väldigt angenäm och lättdrucken riesling. Den är inte så brutalt torr eller mineralig utan snäll och lättillgänglig. Bra kvalitet! Prisvärt!
Wittmann (Rheinhessen)
Westhofener Riesling Trocken 2015
2017-02-10. 88/100
Hårt, slutet, syrligt och ganska ordinärt till en början. Efter en natt med luft öppnar det upp och blir väldigt spännande: Medelstor doft med blommor, blöt flinta och citrus. Stor, frisk väldigt mineralig och fruktig smak full av sten, citrus och gröna äpplen. Framträdande utmanande riktigt bra syra är hela grejen med vinet. Kommer att bli mycket mer generöst med tiden. Nu 3.8 stjärnor men om två/tre år säkert 4.
Riesling Vom Kalkstein Trocken 2015
2017-02-04. 91/100
Great riesling. Full, concentrated, fresch, acidic and fruity wine after some airing/decanting. A veritable lime/lemon fruit bomb with layered honey, pear and peach fruit. Still very young but highly recommended. Really good value. Fav <3. Buy!